If you are a solo travel or just hanging with your team, you can always find your destined beach in Nha Trang. Take a reading stroll with me and we can work out where you should go next!
Overview of Nha Trang
To many people, Saigon is like a modern female, Hanoi a charming lady. Different from these two cities is Nha Trang, a generous woman who loves freedom.
Theoretically speaking, Nha Trang is a coastal city and the economic center, culture hub, and tourism destination of Khanh Hoa Province. It is also regarded as the gem of the East Sea, and the ten beaches below absolutely contribute to that honorable name.
Nha Trang Beach
Did you know that of all the cities along the 3,200 kilometer-long coastal line in Vietnam, only Nha Trang has a beach in the center of its city? With an amazing seven-kilometer length and alluring half-moon shape, Nha Trang Beach stands out as the symbol and the precious gem of the city.
What it's great for
This beach is super convenient and suitable for everyone! Whenever you feel dull as a dishwasher, the fabulous ocean, which may be just a minute walk from your hotel, will re-energize your day! Moreover, the whole street near the beach never stops buzzing with the sounds and chatter of food stores, fancy bars,  souvenir shops, and local markets. Even if you're a solo traveler, you will never feel left behind when you get here!
Cons
Since it's so famous, it's hands down overloaded on holidays. Furthermore, there are lots of high buildings nearby that decrease the peace of the beach.
MORE INFORMATION
Location: Tran Phu street, Nha Trang
Opening Hours: 24/7
Fee Entrance: free
Hon Tam Beach
Hon Tam Beach, positioned on Hon Tam Island, is about 25 minutes from the center of Nha Trang. Mother nature must have favorited this beach with a kilometer of a smooth tide, pristine sand, and blue sea.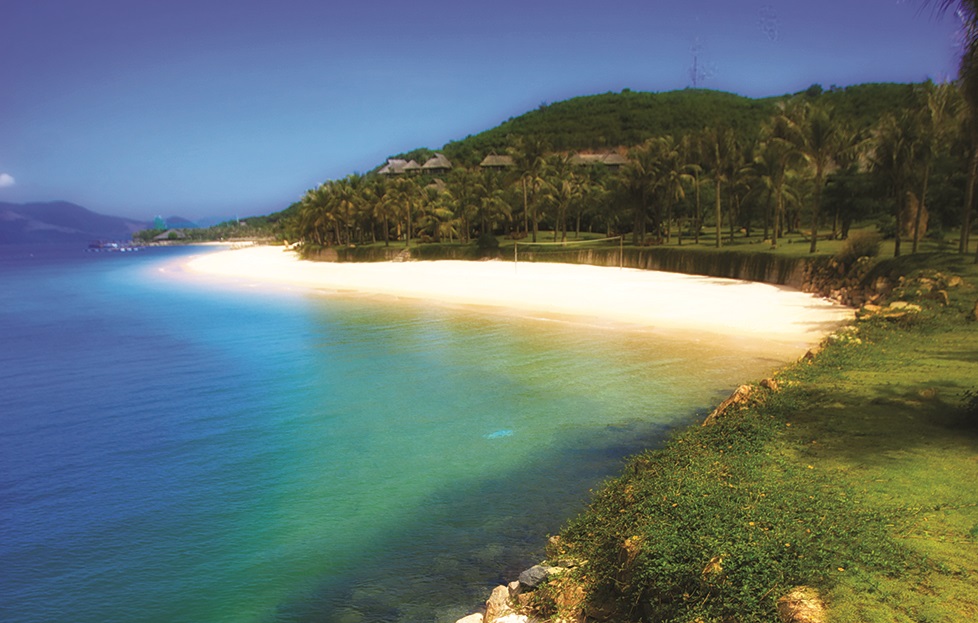 What it's great for
It's perfect for leisure travel! Travelers visiting Hon Tam Island are not only attracted by the romantic scenery but they are also impressed with the available services from fancy resorts, fascinating bars to fabulous food, and even a nice golf course nearby. Moreover, there are interesting activities that will stave off boredom, such as beach motorsports, kayaking, flyboards, sea walking, etc.
Besides, you can get to know a 200-year-old traditional village in the middle of the island. The local people here are so versatile. They can make pottery, alcohol, and even clothes.
Cons
It's pricey! You have to pay at least 20 USD for children and 30 USD for adults to enter. Furthermore, you shouldn't come here during the rainy season, especially October and November, because the storms are extremely strong.
MORE INFORMATION
From the center of Nha Trang, you arrive at Hon Tam port first
Google Maps Directions: http://bit.ly/HonTamPort
Hon Tam Beach Location: http://bit.ly/HonTamBeach
Opening Hours: 8 AM (from mainland) – 10:30 PM (from resort area)
Bai Tien Beach
Bai Tien is a radically distinctive beach that is ten kilometers away from the center of Nha Trang. What makes it special is that instead of sand, the beach has stones only! Even picky travelers are satisfied with the majestic mountains and the unspoiled beach.
What it's great for
This beach is fabulous for those seeking a peaceful and calming vacation, it feels as though it's reserved for lovers and honeymoon couples. A wedding or engagement photo-shoot will obviously be a great idea.
Cons
Lately, Bai Tien Beach is being exploited, so it's losing its original beauty.
MORE INFORMATION
Google Maps Directions: http://bit.ly/BaiTienBeach
(it's on Pham Van Dong street)
Opening hours: 24/7
Fee entrance: free
Bai Tru Beach
Bai Tru Beach, which takes about 30 minutes to reach leaving from the center of Nha Trang, is located on Hon Tre Island. It is regarded as the most beautiful natural beach in not only Nha Trang City but also Khanh Hoa Province. The sand is smooth and the water is so clear and fresh that you can even see the beach bottom. I believe this is where you can find joy and happiness under the green big trees.
What it's great for
This is one of the best places to relax and have fun together! Although the beach is on the island, the waves are soft thanks to Hon Tre Mountain which stands as a firm wall to prevent ocean storms and wind. Since this beach is kind and gentle, you can feel free to enjoy activities such as collecting seafood, playing volleyball, or admiring the spectacular view from a hot air balloon. And if you're tired, don't worry, because fantastic resorts nearby are waving at you!
Vinpearl Land, one of the most exciting amusement parks is just a couple minutes walk from the beach. Additionally, there is a fishing village nearby, so you can get to know the local habits, observe the fishing process, and try fresh seafood.
Cons
The available services are pretty costly.
MORE INFORMATION
First, you arrive at Nha Trang Port or Vinpearl Port (it's up to you). Then a canoe will take you to the island.
Nha Trang Port: 5 Tran Phu street, Nha Trang
Website: Vinpearl Port  
Opening hours: 24/7
Fee entrance: at least 20 USD
Bai Dai Beach
Bai Dai Beach is a beautiful beach only a 30-minute drive from the center of Nha Trang. Unlike other beaches which are often sloped, Bai Dai topography is planar and covered with a kilometer of soft sand.
What it's great for
It's easy to get to and less busy than Nha Trang Beach. But less busy doesn't mean less fun! You and your gang can sunbathe or play games together. But remember to bring sunscreen, or else your skin will be burnt!
Cons
Unfortunately, there are no islands to protect this beach, so you should be careful when traveling here from October to March.
MORE INFORMATION
Location: Bai Dai Beach  
Opening Hours: 24/7
Fee Entrance: free
Hon Noi Beach
Do you know what Nha Trang is famous for besides beaches? The answer is products made from salanganes! The salangane is a kind of small bird that mainly gathers in Southeast Asia. Its nest is made from its saliva and can be used as a nutritious supplement for humans.
If we combine two of its specialties, beautiful beach, and wonderful salanganes, we have Hon Noi – a salangane island which is over an hour's drive from the center of Nha Trang!
What it's great for
It's unique! Hon Noi is the only beach in Vietnam that is flanked by two bodies of water, one side is hot water and the other is cold water.
And of course, remember to discover the salangane caves to find out more about this pretty creature, especially from March to August, when bird nests are collected.
Cons
During the stormy season, you're not allowed to come to this beach. Moreover, Hon Noi is under control by a company, so you have to get here via a tour.
MORE INFORMATION
Location: Hon Noi Beach 
Opening Hours: Tours start at 7 AM and ends at 3 PM
Fee Entrance: 23 USD
Doc Let Beach
Nearly 50 kilometers away from the center of Nha Trang is Doc Let Beach. From its name (in English, "Doc" means slope and "Let" means shamble), you can tell that this beach has an interesting history. In the past, travelers had to walk over sand dunes which were as high as walls to get to the beach. Luckily, we don't have to do that nowadays, or else we'll be frustrated before we have any fun!
What it's great for
This beach is gentle the whole year! Because the water isn't directly affected by a deposit of sand, silt, and clay, it has a great blue color and the waters are consistently mild. Paragliding on this beach and observing the whole Nha Trang City from the sky will absolutely be one of your best memories!
Moreover, nem nuong Ninh Hoa (Ninh Hoa grilled sausage), a specialty of Nha Trang, originated close to this beach! Don't forget to fill up your stomach with this delicious food before coming back home! 
Cons
Since it's quite far from the center of Nha Trang, it will be inconvenient if you want to explore as many places as possible.
MORE INFORMATION
Location: Doc Let Beach  
Opening hours: 24/7
Fee entrance: free
Diep Son Beach
If you're getting tired of hustling in a big crowd, why not experience Diep Son – a peaceful beach which is two hours away from the center of Nha Trang? It's a paradise for visitors seeking a serene lifestyle or inner peace.
What it's great for
Diep Son is famous for its appealing and one-of-a-kind underwater road. The road is about 700 meters long and one meter wide. Believe me, your friends will be struck with wonder if you show them a photo of this road!
Pro Tip: the underwater road appears only when the tide is low. The tide level is different each month, so you'd better come here early and leave late to make sure you can witness the full road.
If you're amazed by the underwater road, you'll also be surprised by the clean level of this beach! There is no trash on the island!
Cons
At noon, it's hot, so remember to bring sunscreen or an umbrella for shade. From September to November, you shouldn't come here due to stormy season.
MORE INFORMATION
Diep Son Port Location: Diep Son Port 
Opening hours: 8 AM – 4 PM
Canoe Fee: 2.5 USD – 5 USD
Bai Rang Beach
Do you love hiking and swimming? Congratulations, you've come to the right place! Wandering on Bai Rang Beach, which is really near Mui Doi – the East pole of Vietnam, is like killing two birds with one stone!
What it's great for
This beach is an ideal stop if you're on your way to conquering Mui Doi – the East Pole of Vietnam. In case you don't know, Mui Doi is the first place to catch the earliest sunlight in this country. There are two ways to get to Bai Rang. The easy route is by boat. The harder way, but also the more favored one, is to get here by hiking through desert, forests, and bumpy trails. This way takes half a day. Vietnamese backpackers normally hike to Bai Rang Beach and spend a night camping, tasting seafood, and singing. And on the next day, they'll get up early and continue hiking to catch the first sunrise in Mui Doi – the East Pole of Vietnam.
Cons
It's not easy to get here on foot, so it's not suitable if you want a leisurely experience.
MORE INFORMATION
If you want to get there by boat: Bai Rang Port 
If you want to get there on foot, contact this local man: Mr. Phan Hung Thi
Hon Ong Beach
There is no place in Nha Trang that helps you to escape the world better than Hon Ong Beach. I'm not exaggerating! Hon Ong, which is 100 kilometers from the center of Nha Trang, is a completely quiet area that even the local people rarely gather at!
What it's great for
Hon Ong is a fantastic beach that is surrounded with green trees, nice weather, and marvelous forests. In the morning, you can take a stroll to the nearby mountain and spend time snorkeling, scuba diving, or collecting seafood. There is only one eco-resort on Hon Ong Beach, but don't worry because they offer services at a reasonable price.
Cons
It's far from the center of Nha Trang.
MORE INFORMATION
Dam Mon Port Location: Dam Mon Port 
Did any of these ten beaches intrigue you and have you thinking that maybe you should visit? But remember this, thinking is never enough, you have to act immediately! Don't hesitate to pack your bag and follow your heart to your most favorite beach in Nha Trang!
While we're on the subject of Nha Trang, don't forget to check out other fascinating articles about this beloved city:
What to See and Do in Nha Trang 
Drinking and Nightlife in Nha Trang: Bars, Clubs, and Craft Beer
A Local's Guide to the Best Food in Nha Trang 
A Complete Guide to Shopping in Nha Trang 
If you enjoyed reading this article and would like some more fun info about what to see, do and eat (and a bunch of interesting cafes!) in Vietnam, follow us at the Christina's blog!