I needn't say that Hoi An is unique because everybody knows it is! Although the town is small and doesn't have many large entertainment venues or shopping malls, people tend to fall in love with it and extend their stay. So, what is there in Hoi An that is so attractive? It is not only about the delicious cuisine, picturesque old tea-houses, or the charming Hoai River, but it is also home to an up-and-coming cafe culture.
Reaching Out Tea House 
You may find that this tea house is often silent. The reason for this is the employees here are deaf. This place is one of the most silent areas in Hoi An, where you can discover the beauty of the quiet.
Reaching Out Tea House offers tasty organic tea and coffee in the cozy space of an old house. It's not only cozy because of the space, but also because of its unique environment. Take its name for example: reaching out. You can learn how to reach out to people without using words. Silence is also a method to communicate and understand others.
On each table is a small tray containing pieces of paper. You will order your drinks by writing down your preference on the paper. There are also some small wooden tiles on the table with common phrases like "thank you", "coffee", "milk", and "ice". Place these tiles on the table and the staff will help you.
Address: 131 Tran Phu street, Hoi An city
Phone number: +84 235 3910 168
Opening hours: 10 AM – 7:30 PM 
Price range: 80,000 – 150,000 VND
Hai Cafe 
Many travel bloggers and reviews recognize Hai Cafe as the most memorable cafe in the world. This coffee shop is located in the Hoi An ancient town center and has two main spaces: the garden yard and the area under the porch. Both of them face the street and possess vintage design style. Hai Cafe is covered by many small green trees and vines, making the atmosphere more fresh and clean.
Not only is Hai Cafe renowned for its pretty spaces, but it is also famous for the tasty coffee and tea. How about sitting under the porch and observing the ancient street with your coffee to hide from the heat of the sun? You may have a chance to watch the cool performance of professional cooks at a Cooking Class at Hai Cafe. Contact the staff for more information about this program.
Address: 111 Tran Phu Street and 98 Nguyen Thai Hoc street, Hoi An city
Phone number: +84 905 409 406
Opening hours: 7 AM – 11 PM 
Price range: 25,000 – 200,000 VND
Mango Rooms
One sentence that encompasses the feeling of this cafe is this: The decoration is very colorful, lively, and cool, emanating the feeling of youth and enthusiasm.  Mango Rooms has two distinct rooms: one facing Hoi An ancient town street and one facing Bach Dang street on the Hoai riverside. The former room is designed with pure Vietnamese style, fitting with the background of the ancient town. The second room is more colorful and bright.
Each room offers different experiences, that's why this place is so unique. The one facing the ancient town will bring you back to the old times of Hoi An. A cup of tea is best for this space because tea is slow and gentle. The other room will bring you the fresh air from Hoai river. Coffee is better in this case, since coffee is a drink of energy, excitement, and creativity. Which one is more suitable for you?
Address: 111 Nguyen Thai Hoc street, Hoi An city
Phone number: +84 235 3910 839
Opening hours: 8:30 AM – 10:30 PM
Price range: 30,000 – 300,000 VND
Cargo Club
Cargo Club is one of the most famous cafes in Hoi An. Besides serving coffee, it is also a bakery and an ice cream shop. This cafe faces the ancient street, giving you a chance to immerse yourself in the old environment and observe local life. The other side faces a river, Thu Bon river, and this also allows you to enjoy the wind.
This cafe serves both Vietnamese and Western food. People recommend trying the breakfast menu and the cakes offered by this cafe. In the summer, you can also eat ice cream to cool your body with a little respite from the high temperature and humid weather.
Address: 107 Nguyen Thai Hoc street, Hoi An city
Phone number: +84 235 3911 227
Opening hours: 7 AM – 9 PM 
Price range: 180,000 – 275,000 VND
The Chef
The Chef is actually a restaurant, but it has various types of drinks on the menu. Coffee is served on the second floor, where you can encounter the dark wooden walls, offering an ancient space of East Asia. The top floor is decorated with lanterns, non la, and bamboo. From here, you will get a magnificent view of Hoi An ancient town. The dark-red roofs and sunlight combine to create an old but romantic scenery.
Sometimes, you will see photographers and models in The Chef using the wonderful scenery here as artistic material. The Chef is also an ideal place to read a book. A little sunlight, a little wind, a little tranquillity, a cup of coffee, and a fantastic book can make your trip more colorful.
Address: 166 Tran Phu street, Hoi An city
Phone number: +84 901 020 882
Opening hours: 8 AM – 10 PM 
Price range: 50,000 – 300,000 VND
Gemstone Art Museum 
This coffee shop is located in the back of the gemstone museum. It's operated by a Vietnamese – Italian couple. Duong Nga, the Vietnamese female owner is the collector of these precious stones. This is the collection of Duong Nga and her father for more than two decades. It exhibits more than 600 precious stones and the like. Sculptures from these stones are also shown to the public.
Drink a cup of coffee and admire the beauty! On the second floor of this building, there is a wine bar, so you can choose wine instead of coffee. You will also have the chance to meet and talk to Duong Nga about the stones and her journey in collecting them.
Address: 130 Nguyen Thai Hoc street, Hoi An city
Phone number: +84 235 3938 468
Opening hours: 9:30 AM – 11:30 PM
Price range: 30,000 – 50,000 VND
Cocobana
Cocobana is one of the spotlights on the coffee shop map in Hoi An. This cafe occupies a small corner which combines simplicity and colorfulness, tradition and creativity. Bamboo ladders, non la (conical palm-leaf hat), and special furniture together create a cozy but lively space. You can observe the traditional tools made of all different types of bamboo that decorate the shop such as fish catchers, chairs, and hammocks.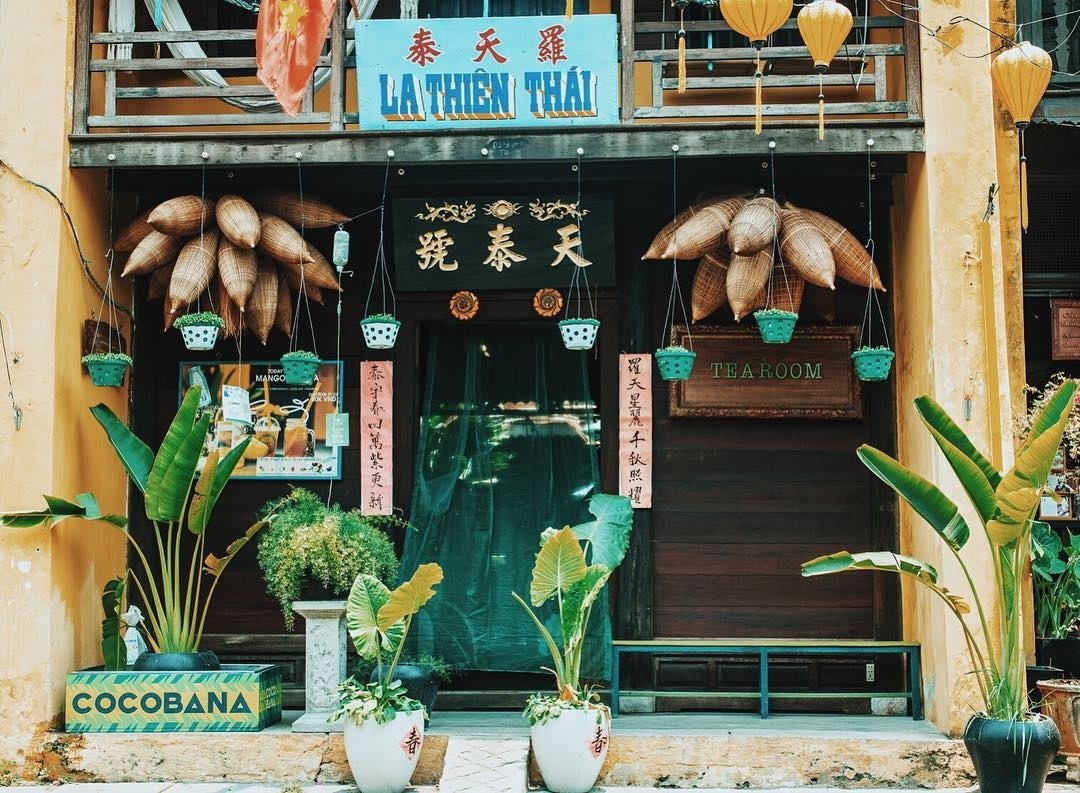 The arrangement of these things may seem arbitrary, but in general, the space is harmonized and comfortable. The coolest part about Cocobana is there is an area dedicated to producing handmade paper! You can learn! In addition, this cafe has a small garden with a tiny lake and pretty fish.
From the main door, you go through the garden and then reach the tea room. The design of Cocobana makes you feel comfortable, as if you could spend your whole day enjoying the tranquil environment, sipping your coffee or tea, and floating with your book.
Address: 16 Nguyen Thai Hoc street, Hoi An city
Phone number: +84 90 388 26 88
Opening hours: 9 AM – 6 PM
Price range: 30,000 – 50,000 VND
Hoi An Roastery
Hoi An Roastery is the common name of seven coffee shops located in different places in Hoi An city. These shops are unique because they roast and grind their own coffee beans, so don't worry about the coffee quality and taste. I guarantee that it's hard to find another cafe in Hoi An with better tasting coffee. As such, you can see the staff grind and make coffee on site.
Although there are seven branches, Hoi An Roastery's most well known location is 47 Le Loi street. This shop is preferred by many people because of its traditional and spacious design. You may love the wooden pillars and the chandeliers made of bird cages, which will bring you back to Hoi An of the 19th or 20th century.
Address: There are seven locations:
Roastery Japanese Bridge, 135 Tran Phu Street
Roastery Temple, 685 Hai Ba Trung Street
Roastery Center, 94 Le Loi Street
Roastery Riverside, 95 Bach Dang street
Roastery Market, 31 Tran Phu street
Roastery Lantern Street, 117 Nguyen Thai Hoc Street
Phone number: +84 235 392 7772
Opening hours: 7 AM – 10 PM
Price range: 30,000 – 50,000 VND
Cocobox
Cocobox is an integration of selling coffee and organic agricultural products. In this shop, you can buy flavors and specialties such as Phu Quoc salt, pollen grains, fruit jam, and Marou chocolate made in Vietnam.
Cocobox has a classical European design, but it easily harmonizes with the conventional East Asian atmosphere of Hoi An. They offer European breakfast and a diversity of drinks. The signature of Cocobox is its menu of smoothies from fresh fruits and vegetables with many cool names like Relax Thu Bon (Thu Bon is the name of a river), Good Morning Hoi An, and An Bang Colada (An Bang is the name of a beach in Hoi An).
Cocobox has a balcony, so you can enjoy the beautiful view of Hoi An from above while sipping your healthy smoothie.
Address: Cocobox has four locations for you to choose from:
94 Le Loi Street
3 Phan Boi Chau Street
95 Nguyen Thai Hoc Street
42 Bach Dang Street
Phone number: +84 235 3862 000
Opening hours: 7 AM – 10 PM
Price range: 20,000 – 50,000 VND
Le Fê Cafétéria       
Le Fê Cafétéria hides in a small alley, so many travelers may miss this wonderful place. From Phan Chu Trinh street, after turning onto Alley number 69, you will see an old wooden sign signalling the name of this cafe.
Le Fê Cafétéria is divided into three spaces. The first and the last are open spaces with green trees, flowers, and sunlight. The middle space is decorated in an old style with books, old-fashioned televisions, and a rotary dial telephone.
Pro tip: Every Sunday starting at 8 PM, Le Fê Cafétéria holds an acoustic music performance. Don't miss it!
Address: 69/3 Phan Chu Trinh street, Hoi An city
Phone number: +84 909 096 002
Opening hours: 6:30 AM – 10:30 PM
Price range: 30,000 – 50,000 VND
Rosie's Cafe
Rosie's Cafe is also located in a very small alley of Hoi An. You will have a chance to discover the peaceful and silent corner of this ancient city. Though this cafe is a youngster in comparison with others in Hoi An, it has received many good comments and is recommended by many visitors.
Rosie's Cafe provides an open space which receives as much sunshine as possible. I suggest you sit under the porch, sip your coffee, and absorb the heat from the sun, which can give you enough energy and inspiration for the whole day.
Address: 8/6 Nguyen Thi Minh Khai street, Hoi An city
Phone number: +84 905 312 433
Opening hours: 7 AM – 7 PM
Price range: 30,000 – 50,000 VND
The cafes mentioned above only account for an infraction of what you can find in Hoi An. You must visit Hoi An at least once in your life. Coffee is not the only thing you can find here but it certainly enhances the experience.  For more unique things to do, visit this article.
Enjoyed this article and want more information on fun things to do, see and eat in Vietnam? Follow us at the Christina's blog.
Pin it: