Been wandering around the city all day long and need a refreshing ending to your sweaty day? Treat yourself to a massage and you'll be fully charged of energy again. But question: at which spas in Saigon will you get the best massage? You can ask Mr. Google, or if you have begun reading these words, keep reading till the end.
Massage in Vietnam
Thousands of years ago, people have already resorted to using their hands to help reduce pain by pressing, rubbing, kneading, etc. on parts of the body. Over time, skills had developed, people have created a technique based on using the cleverness of hands and the therapy of acupuncture, which wasn't called "massage" until recently. It is said that Vietnamese massage takes effect from Chinese; however, we can always find the differences between these styles: focus on kneading, working out the knots in your muscles.
There are mainly 2 kinds of massage in Vietnam: the Vietnamese traditional one and the Thai style since the demand of Thai massage is quite high. Below recommendations of spas in Saigon include both of them. But before revealing, there is an "old-fashion" fact about massage in Vietnam that I think quite interesting to know.
Massage Meant Something Else…
When it came to massage parlors, people used to think of a place only for men. Those massage parlors were thought to be where guys came for adultery. And as a matter of fact, there used to be thoughts that if a guy was seen going in/out a massage parlor, he would be considered a playboy. But things look better today. More and more people seek for where to have the best massages on a regular basis, including girls. People realize that massage is a great way to relax after a day of hustling and bustling for life in this big city. So, there is no worry, just keep calm and enjoy your massage in Ho Chi Minh city, because you are going to be introduced to the 5 best spas in Saigon.
A glance at best spas in Saigon
1. Sa Spa
Different from the others on this list, the experience at Sa Spa is enhanced thanks to the extra effort put into their design. Space is modeled to resemble that of an old Vietnamese countryside home, giving you a rush of peace as you walk in through the gate. A stoney path through a lush garden leads you to the house, where you will be welcomed by the staff with a cold tea, and their menu.    
Sả Spa offers not only massage services but also beauty treatments for your skin, hair, and nails, along with additional services such as sauna, steam and herbal baths. They even offer pregnancy massages for expecting mothers.
For any option you choose, you can also choose a time frame – either 45, 60 or 90 minutes. If you have the time, make sure you stay as long as you can. After a long, hard day, this will be the perfect ending and you will leave feeling relaxed, both physically and mentally. Check out their menu!
Website: http://saspa.vn/ — Email: saspa40b@gmail.com 
Facebook Page: https://www.facebook.com/Sa.spa.2010/
Address: Sả Spa – 40B Pham Ngoc Thach, District 3, HCMC 
Tel: 028 352 106 70
Price range: 350.000 – 1.550.000 VND
Operating hours: 9 am – 9 pm
2. Cat Moc Spa
This place is one of the top spas in Saigon. Located on Tran Dinh Xu, a non-busy street in District 1, 500 meters from Pham Ngu Lao backpacker area, it is very easy to find. The area is well-decorated with calming lights, natural melodies and delicate aroma scents that blend through the air flowing through the Vietnamese architecture, which brings you peace from the very first moment you step in. This spa will pay for your transportation to get there (one way). All you need to do is tell the receptionist the amount of money that you paid for your taxi (or Uber), they will refund right after.
The average price is around $10 for 30 minutes treatment and they provide you many choices ranging from Swedish massage, Traditional Thai massage, Hot Stone massage, Vietnamese herbal relaxing massage, facial/body skincare, and other beauty services. For a recommended package? The 75-minute long Hot stone therapy is ideal when you need total relaxation. Otherwise, the 30-minute long foot care after a whole day of walking exploration of the city should be great. And just a small note, you should make a reservation if you're going with a group of more than 2 people.
Website: http://www.catmocspa.com/
Addresses: 61-63 Tran Dinh Xu, Dist.1, HCMC
Price range: 120.000 – 1.600.000 VND
Operating hours: 9am – 10pm
3. Miumiu Spa
Miumiu has 5 spas in Saigon, all located in District 1, but the one on Ngo Duc Ke street is the most central one due to its golden location: right in front of the Bitexco Financial Tower and just 800 meters from Ben Thanh Market. The modern Asian-style architecture of Miumiu Spa combined with the subtle decorative furniture and the tranquil ambiance of melodious music will melt your tension.
Besides the Vietnamese and Thai massage, Miumiu also introduces you the Shiatsu massage from Japan which focuses on using one's fingertips only instead of combining the elbow, knee, and clenched fingers during the massage. This treatment is believed to relieve stress, lower back pain, digestive discomfort, headaches and so much more such as helping with fertility and reproductive issues.
There are only two 30-minute services for you to choose: the quick foot or quick body massage. The rest of your options are above 60-minute long which won't let you down. The fresh ginger essence massage is my favorite among patrons. You could give it a try. Do not worry about tipping as the service fees include a tip for the staff. They will also provide hand-made antioxidant juice before services begin and a cup of Vietnamese tea after. And one last thing, credit cards are accepted and you need to book 24 hours ahead of time. This spa is quite busy, especially on the weekends.
Website: http://miumiuspa.com/
Addresses:
        4 Chu Manh Trinh, Dist.1, HCMC
        2B Chu Manh Trinh, Dist.1, HCMC
        13/1 Le Thanh Ton, Dist.1, HCMC
        84 Ngo Duc Ke, Dist.1, HCMC
        90 Le Thi Hong Gam, Dist.1, HCMC
Price range: 200.000 – 1.400.000 VND
Operating hours: 10am – 11pm
4. Saigon Heritage Spa
Ranking number 1 on Tripadvisor among the best spas in Saigon, this can't be recommended any better. Just a few steps from the Saigon Opera House, this is such an ideal place to relax your body. Saigon Heritage welcomes you with its cozy atmosphere, lovely staff and especially the mysterious hallway which are all good signs for an amazing massage.
This spa is very proud of their massage therapists who were trained very carefully before joining the line of in-service massage therapists. They specialize in traditional massage & spa aroma oil from Vietnam & Thailand. Beauty services, like facial care, for example, are just the side services.
If you ever come here, consider getting the golden package: 40 minutes of body massage with hot stones, with a 30-minute long scrub with THANN salt scrub and a 10 minutes shower. The fascinating hot stones with the added fresh cucumber facial pack will give you the best experience ever. Afterward, a cup of blooming flower tea leaf from the mid provinces of Vietnam is a good way to bring back your consciousness. "Good service, good price" is a perfect way to describe this place.
Website: http://saigonheritage.com/spa-services.html
Addresses: 69 Hai Ba Trung, Dist.1, HCMC
Price range: 220.000 – 800.000 VND
Operating hours: 10am – 11.30pm
5. Moc Huong Spa
For one looking for the best spas in Saigon for a massage, Moc Huong should be on the top of the list. For first-timers, it might be a little bit overwhelming because of their extensive menu. They offer a wide range of treatments; from body massage (Hawaiian, Thai, Shiatsu, Swedish, Aromatherapy, Four-Hands, Six-Hands, and their signature Moc Huong Body Treatment), to foot treatments, pedicure and manicure, and facials.
To make it easier for you, keep in mind the 90 minutes Moc Huong signature package: perfect amount of time, lots of interesting rubs and stretches. This is also such an ideal place for busy people or those who play sports to take a break. They add express and sports massage with plenty of selections for you to pick and you can even ask the massage therapist to focus on a particular part: head, shoulders, legs, feet, hands, arms, back or neck or you can name them all.
There are both male and female massage therapists for you to choose from and you can even get a massage with two therapists at a time and with an appropriate level of strength based on what you require. Afterward, you will be served a cup of cool tea and a plate full of candied ginger and lotus seeds. Advance bookings are not essential, however, we recommend you to call at least 2 hours prior to reserve your appointment. Easy to access location, reasonable prices and a wide range of services, you can't find any better place.
Website: http://mochuongspa.com/
Addresses:
        9C Ton Duc Thang, Dist.1, HCMC
        2A Chu Manh Trinh, Dist.1, HCMC
        61 Xuan Thuy, Dist.2, HCMC
Price range: 200.000 – 2.000.000 VND
Operating hours: 10am – 11.30pm
6. Golden Lotus Spa
Golden Lotus is a Korean-style spa and also known as the first family spa in Vietnam. If you are traveling with your family, this shouldn't be missed. You can bring the whole family for a Jjim Jil Bang (sauna room), for a Korean style experience. However, the Jjim Jil Bang is only available at Golden lotus spa at 139 Ton Nhat Tien S.t, D.7, and also at the branch at 27 Phạm Ngọc Thạch, D.3.
The Korean style spa treatment is fantastic but the massage services here are also great options and will undoubtedly satisfy you. You won't have any problem figuring out which service you would get since their menu is so simple and clear. They also have a restaurant here so you can enjoy some food after your amazing massage. As a recommendation, the 90-minute body massage with hot stones would be great.
Website: http://goldenlotusspa.vn/
Addresses:
        Spa 1: 27 Pham Ngoc Thach, Dist.3, HCMC
        Spa 2: Garden Court 2, 139 Ton Dat Tien, Dist.7, HCMC
        Spa 3: 15 Thai Van Lung, Dist.1, HCMC
        Spa 4: 20 Ho Huan Nghiep, Dist.1, HCMC
        Spa 5: 17/5 Le Thanh Ton, Dist.1, HCMC
Price range: 200.000 – 550.000 VND
Operating hours: 10am – 11pm
7. Temple Leaf Spa
Once you walk in, you won't want to leave. Like the other spas mentioned above, Temple Leaf Spa uses a signature aroma that encourages a relaxing state of mind and mood the moment you sit down to look at your massage options. In addition, this spa is decorated to look like a temple. From the vase of lotus marking the entrance of the spa to the Buddha head statue, these decorative items are why this spa is called the Temple Leaf.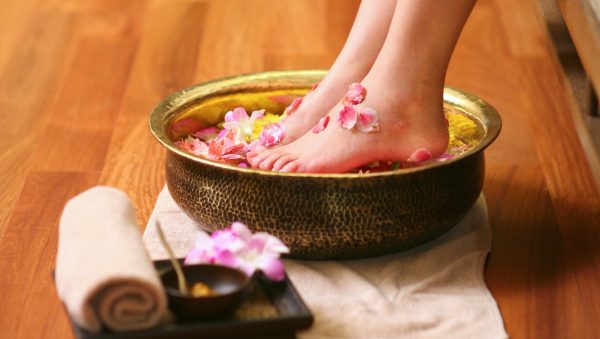 If you focus on the relaxing massage, it won't be too difficult to decide. Their 90-minute full body massage is awesome if you ask me. If you choose a package, it includes beauty care services such as a clay mask and a body scrub using Thann's natural beauty products. Thann is the number one luxury spa brand from Thailand which uses pure organic spa products extracted from vegetables, grains, and rice. The staff is also so friendly and helpful which is a always plus.
Website: http://templeleafspa.com/spa-services.html
Addresses:
        32 Thai Van Lung, Dist. 1, HCMC
        74/1a Hai Ba Trung, Dist. 1, HCMC
Price range: 200,000 – 1,200,000 VND
Operating hours: 10 AM – 11:30 PM
These spas in Saigon go above and beyond to provide you with the ultimate experience. Now close your browser and head for your massage. A super relaxing rest-of-the-day is waiting for you!