Introduction to Ha Long Bay
Ha Long Bay, only 170 km to the east of Hanoi, is famous for its wondrous ocean karst topography and thanks to its unique landscape, it is one of the top Natural Wonders of The World. The name "Ha Long" means "Landing Dragon." The location first appeared on a French Marine Map in the late 19th Century and  there was a rumor at that time that a dragon emerged from the Bay, reported in the Hai Phong News (French newspaper): In 1898, a sub-lieutenant named Lagredin, captaining the Avalanche cruiser reported seeing a huge sea snake on Ha Long Bay together with many of the crew members.
In Ha Long Bay, there are around 1969 limestone pillars above the sea level and hundreds of blooming islands. There are also several large marine caves scattered offshore. The biggest cave in the area is the Dau Go Cave (Wooden Stakes Cave), formerly known as the Grotte des Merveilles. The largest islands are Cat Ba Island and Tuan Chau Island, which are inhabited by the locals, with many beaches and accommodations for tourists. Smaller uninhabited islands have their own ecosystems, but you will not find any accommodation facilities of course. They usually host some unique animal species of their own, such as wild chickens, antelope, monkeys and giant lizards, and enjoy a protected status.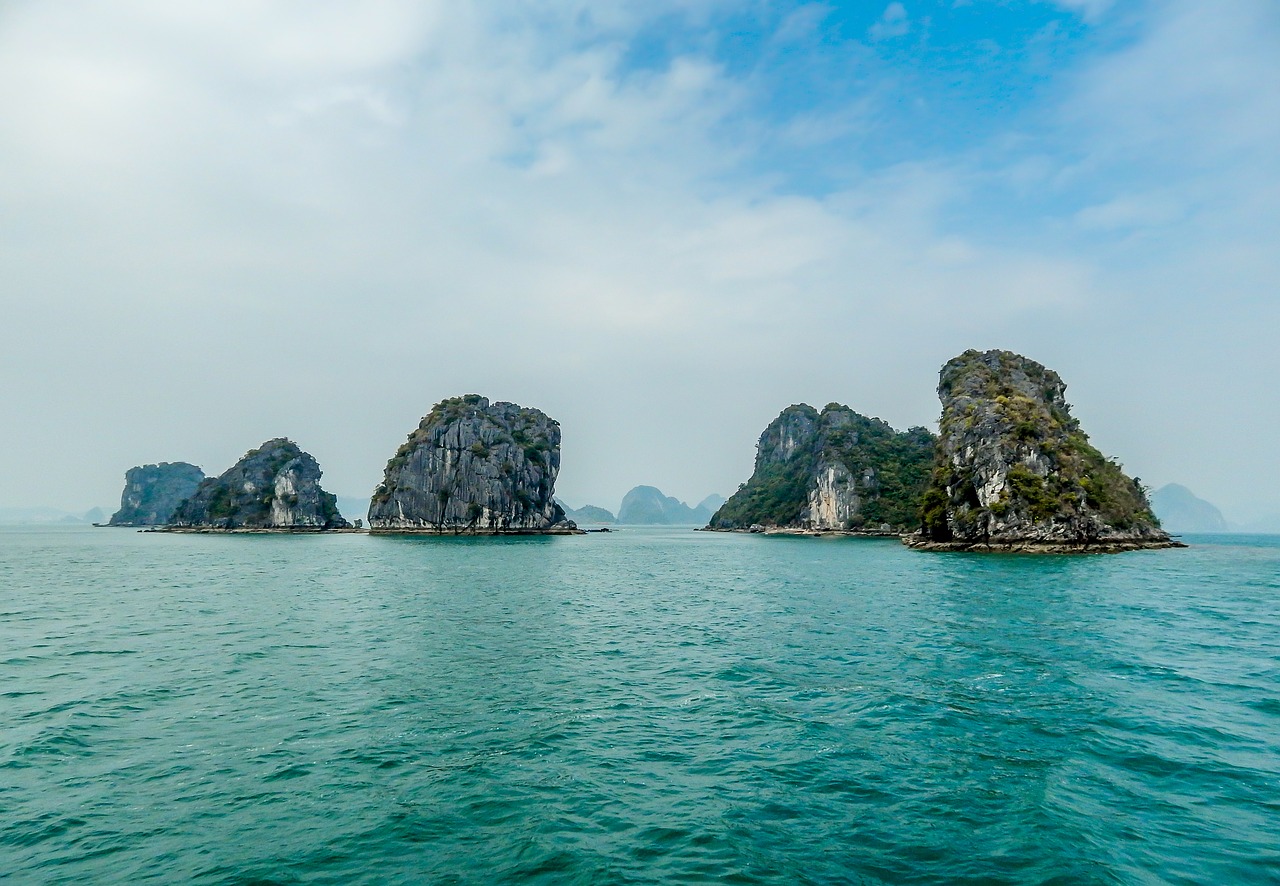 The UNESCO World Heritage Site of the Ha Long Bay is the most popular touristic place and most of the sites are well-protected from artificial developments. The islands at the site vary greatly in size and shape, forming a complex maze on the ocean surface. You have probably seen this in a short scene of Kong Skull Island when the expedition crew boarded the Skull Island.
The official organization which promotes and conserve the Ha Long Bay, as well as providing support and information to the tourist about the destination is Discover Halong.
 Getting To Ha Long Bay 
There are a huge number of options from Hanoi and Hai Phong. First of all, you should get there via any transportation of your choice, preferably by flight or take a train.
From Hanoi
There is a bus line connecting Hanoi and Ha Long city, 160 km away from each other, or three and a half hours in time. From the bus station, it takes 15 minutes on a taxi to the Tuan Chau ferry pier to Cat Ba Island or 40 minutes to the boat station that gets you on a boat and around the karst topography (at the end of Khe Ca Street). The ride to Cat Ba Island is roughly 2 hours.
There are 4 main ways to transfer from Hanoi to Ha Long Bay:
By Bus
From Gia Lam Bus Station in Hanoi to Bai Chay Bus Station of Ha Long, it costs 120,000 Vietnamese Dong ($6), and the ticket can be bought at the bus station. There are mini 17-seater buses and the trip can take up to 5 hours since the buses will stop along the way to fill up passengers.
Protips: To get to Gia Lam, you should take Bus #34 for 5,000 VND from the following bus stops: Van Mieu, Hai Ba Trung, Nha Hat Lon, Bac Co or Chuong Duong in Hanoi. Be sure to wait for the bus on the side of the road where the traffic is flowing east or north. Otherwise, you may end up at the other end of the city.
From My Dinh Bus Station – Hanoi, buses traveling to Bai Chay Station of Ha Long are 100,000 VND. They are bigger, faster and more comfortable than the 17-seater from Gia Lam. City Bus #34 goes to My Dinh Bus Station as well, which is on the opposite route of going to Gia Lam.
If you plan to explore Cat Ba Island, which is among an essential destination of the Ha Long Bay, you should depart before 10:00 AM to make it to Ha Long on time before the last ferry that departs at 3:00pm.
It takes a bit more traveling time once you have arrived at the Bai Chay Bus Station to either Tuan Chau or Cat Ba Islands or the UNESCO Heritage Site of Ha Long Bay. Here are some estimated traveling expenses:
From Bai Chay to Ha Long City, a Xe Om (motorbike taxi) should cost 20.000 VND, and roughly 50.000 VND more to the UNESCO Site.

Bai Chay to the Tuan Chau Island, a Xe Om should cost 40.000 VND. From Tuan Chau Island to Cat Ba Island, it costs 80.000 VND on a ferry.
A taxi to any of these locations could be more than double the price of taking a Xe Om. Grab is not yet available in Ha Long at the moment.
From Bai Chay station, head over to the area surrounding Vuon Dao street. Here you will find most of the budget accommodation for you to stay for a day or two exploring the bay.
For your convenience, Cat Ba Express is the best private bus company that gets you to Ha Long. Therefore they also operate lines to Cat Ba, Sapa, and Ninh Binh (Phong Nha Cave). Check here.
You can also take the private shuttle bus that picks up & drops off passengers from the Hanoi Old Quarter for 10$. It also takes 4-6 hours depending on how many stops along the way that the driver picks up more guests. Usually, if you book a cruise service in Ha Long Bay, it includes the shuttle bus, either with extra fees or not.
By Seaplane
Taking a seaplane flight from International Noi Bai Airport to Ha Long City is only 45 minutes. It is surely a more fabulous experience with aerial views over the countryside and a thrilling water landing at the Tuan Chau Island Marina. The flight can be extended with an additional 15-minute scenic tour over the bay, which allows you to enjoy a bird's eye view of up to 300m high above the sea level of thousands of limestone karsts and the beautiful jade green waters. You should see floating fishing villages prior to arrival at Tuan Chau Island Marina.
This is the one and only seaplane service in Vietnam which is $175 one way and almost double for the extended scenic tour. The ticket can be bought directly at the Noi Bai Airport or booked at their website.
By Train