It's always hard to decide what to do when you have just one day to explore a city. Especially one such as the beautiful coastal city of Nha Trang in Vietnam. There are bunches of places to visit in Nha Trang, where just a glance at the sea's transparently blue color could make you want to extend your stay! It's also not about the beautiful sandy coast blending harmoniously with the soft waves, but it's everything else about the city too. The people, the culture, the food, the nightlife and history!
So this really poses a challenge for those travelling with time constraints. This article helps to alleviate some of that indecisiveness, so read on for some good advice on what you can do in a day in Nha Trang. This article is broken down into the three main time periods of the day – morning, lunch/afternoon and night with some options for you per each, such as beach, diving, mudbaths, massages, night markets, etc. Read on and choose what you like!
MORNING – BEACH, BRUNCH AND WALKS
The magnificent Nha Trang sunrise!
You are at one of the top 5 most beautiful beaches in Vietnam! It is no doubt that you really should sacrifice one happy sleepy morning to head for an early beach sunrise in Nha Trang! If your hotel is on Tran Phu street, you are very lucky. All you have to do is cross the street and voila! Beach!
You can either witness the sunrise from your balcony if you have a sea view, or just walk over to the sandy coast and dip your toes in the cold water morning. Warning – the crowds can be plenty, but believe me, it's worth it. The weather is chilly, the water is cold, the breeze is fresh, and you can listen to the subtle sounds of the waves hit the coast as you watch the golden ball rise form the horizon. It will make the perfect day. You can always go back and sleep after or if you dare…jump into the water and go for a swim!
If you are not located on Tran Phu street, and are a little further away – do take your time to see the sunrise. It will be great to go for a walk in the morning which will help you wake up and feel fresh for the new day. There will be many restaurants opening from a night's slumber, so just grab yourself a cup of coffee or tea and walk the early morning streets before they get crowded. It will really give you peace of mind.
Enjoy a Vietnamese breakfast
My most memorable breakfast in Nha Trang was when our group, after an early morning on the beach, got ourselves dressed up and headed for grilled fermented pork rolls (Nem nuong Ninh Hoa), grilled beef topping with sesame (Bo nuong me) or beef grilled on charcoal stove at Vu Thanh An restaurant on 15 Le Loi street.
There are so many other breakfast options for you to choose from – just walk down the streets and tuck yourself into a restaurant that strikes your fancy. Don't be afraid to go local and opt for some delicious seafood breakfast. During office times, the streets can get full with cars and bikes so that's why I recommend you walk around without a particular target in mind. I am sure wherever you eat, you will love. There's no such thing as bad food in Nha Trang. However, if you are looking for some recommendations, you can try these restaurants:
Bo nuong Lac Canh restaurant
What to try: Beef grilled on charcoal stove (Bo nuong lui)
Address: 44 Nguyen Binh Khiem, Huong Xuan Ward, Nha Trang City
Opening hours: 10 AM – 11 PM
Price range: 35,000 – 275,000 VND ( ~$2 USD – $13 USD)
Nha Trang Xua Restaurant
What to try: Vietnamese cuisine
Address: 7G3 Hung Vuong, Loc Tho Ward, Nha Trang City
Opening hours: 9 AM – 9 PM
Price range: 35,000 – 275,000 VND ( ~$2 USD – $23 USD)
Banh canh co Ha
What to try: Thick noodle soup with grilled chopped fish (Banh canh cha ca)
Address: 14 Phan Chau Trinh, Huong Xuan Ward, Nha Trang City
Opening hours: 7 AM – 10 PM
Price range: 15,000 – 28,000 VND ( ~$0.5 USD – $1.5 USD)
Banh canh kho Co Tuyet
What to try: Dried thick noodle soup (Banh canh kho)
Address: 2A Ngo Quyen, Huong Xuan Ward, Nha Trang City
Opening hours: 7 AM – 9 PM
Price range: 15,000 – 25,000 VND ( ~$0.5 USD – $1.5 USD)
Western food, why not? 
There are foreign food venues too. Should you want to contemplate Nha Trang from somewhere higher during your breakfast, do not hesitate to drop by the Rooftop Lounge at 73/6 Tran Quang Khai street! Their Western breakfast and refreshing beverage list would surely enrich the value of your trip. Other western breakfast venues you can check out are:
Pita Gr Restaurant
Address: 7G3 Hung Vuong, Loc Tho Ward, Nha Trang City
Opening hours: 8 AM – 11 PM
Price range: 200,000 – 1,000,000 VND ( ~$10 USD – $50 USD)
Louisiana Brewhouse
Address: 29 Tran Phu, Vinh Nguyen Ward, Nha Trang City
Opening hours: 8 AM – 12:30 AM
Price range: 65,000 – 5,500,000 VND ( ~$3 USD – $250 USD)
LIVINcollective
Address: 77 Bach Dang, Tan Lap Ward, Nha Trang City
Opening hours: 10:30 AM – 22 PM
Price range: 100,000 – 250,000 VND ( ~$5 USD – $12 USD)
For the vegetarians…
How about for those that are vegan? Lucky for you, Nha Trang does have many delicious vegan restaurants. A delicious vegan restaurant you can check out is Alpaca Homestyle Café on 10/1B Nguyen Thien Thuat street. It is said to be one of the most recommendable restaurants in place for Western-style breakfasts. Plus it has the meat alternative to the vegan dishes as well!
After their breakfast, Nha Trang people prefer a street coffee talk and enjoy the street of the morning until their working time at 8:00 AM. Which is what you should do too even if your breakfast was a little late 😉
PS: Bear in mind, these restaurants are also great options for lunch and dinner!
Fill out your morning with activities:
Dam market should be perfect for a walk in-town after our breakfast (with a coffee in hand?). Taking a look at the main market a region provides much insight into the culture of the peoples of that region. Moreover, Dam market today offers a wide range of souvenirs, foods (either eaten-in or taken-home) with acceptable prices and need no bargaining. Take a few minutes to stroll around in the market and if you need to take any beachside souvenirs for your loved ones at home, this is your place.
You can go to the Nha Trang Center, just a street away from the famous Intercontinental Hotel, Nha Trang, if you want to do some upscale shopping. It houses many fashionable brands – so take your pick. Buy some beach clothes and bikinis if you wish to visit the beach next.
The Nha Trang Cathedral is also great for a visit. The construction of Nha Trang Cathedral (Nha Tho Nui) began in 1928 and finished in 1934. The stone edifice is punctuated with stained glass windows with three large bells in the tower. It stands atop a hill in the centre of town. Mass is at 5:00 am, 7:00 am, 9:30 am, 4:30 pm and 6:30 pm on Sundays and at 4:45 am and 5:00 pm the rest of the week.
For a more adventurous trip, you may want to drive yourself out of the city after breakfast. There are many options of beaches and islands you can choose but I recommend Bai Dai Beach which is about 20km to the south of the city. Hon Tam Island, 7km to the Southeast is also a beautiful spot for your traveling. Both places get a bit more crowded in the evening, so its best to head there in the morning, enjoy some water sports activities or just sunbathe and read a book. Or sleep if you missed out your beauty sleep cos you decided to watch the sunrise 🙂 The drive will also be great – through serpentine roads surrounded by mountains and coast on both sides, without many vehicles on the road. There will be many opportunities to stop and take a picture.
You can also opt to try the cable car that connects to the Vinpearl Island. The ticket is about $18USD – 360,000VND and this is a good price only if you are willing to use the facilities in the island such as a golf course, aquarium and waterpark. We suggest against this unless you have kids who will enjoy it.
If you do not want to drive away so far, you can just visit the main beach. There are many spots you can spread out a beach mat or find a reclining chair under a sun umbrella. Beach sports are plenty – you can kitesurf, go snorkeling, surfing, scuba diving etc. Hit up the Sailing Club or Rainbow Divers for more information.
If beach is not what you want to do, how about a hike to a waterfall? Ba Ho waterfall is what you're looking for. To get there, it's a scenic 27-kilometre drive north along the coast, then a sweaty, challenging 25-minute hike up to the first of three falls that you can swim in ("ba ho" means "three pools"). You will use trees and vines as hand and footholds. Make sure you wear appropriate shoes! The place is very quiet – so you can enjoy some sunbathing up there. PS: Go on a bike! Way more fun than a taxi. 
To get there, it's a scenic 27-kilometre drive north along the coast, then a sweaty, challenging 25-minute hike up to the first of three falls that you can swim in ("ba ho" means "three pools").
By the way, we know we recommended so much. But this is because we want you to choose what is best for you. One day is definitely not enough in Nha Trang, but you can see your options here, and plan the perfect itinerary for yourself 🙂 Our favorite recommendation for the morning is definitely Bai Dai beach! But if you want to see more of the beaches in and around Nha Trang, see here.
Enjoy a deliciously local lunch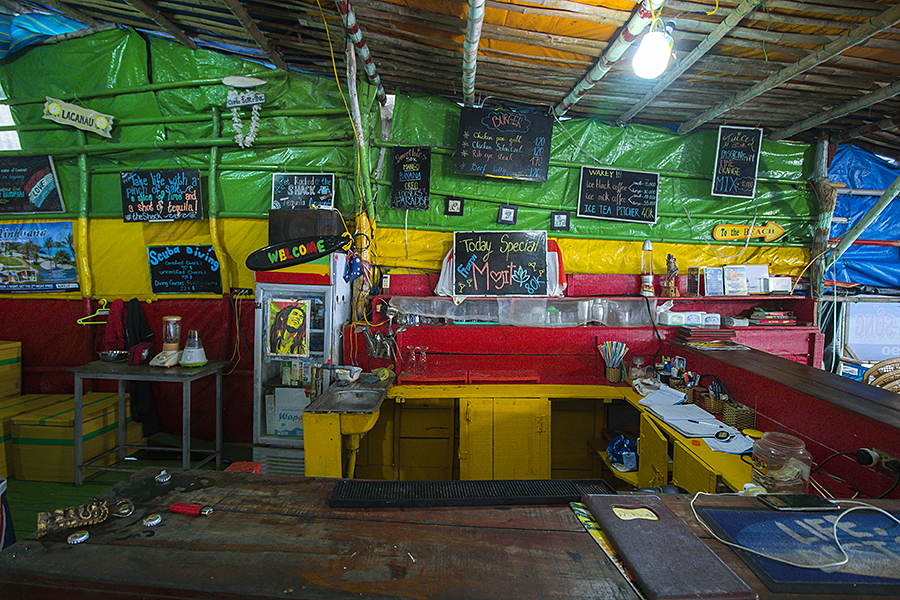 Don't worry about finding spots for lunch. In fact, above breakfast recommended places have their whole menus for lunch and dinner. You also can check here for our Nha Trang best food that you should opt for! If you decide to go to Bai Dai Beach after breakfast as recommended, do not forget to enjoy some lunch at The Shack Vietnam. You can also take a lesson on paddle surfing here to digest!
If you are back on the main beach, hit up the Sailing Club for some lunch by the beach.
AFTERNOON – HISTORY AND SOME MORE BEACH. OR HOW ABOUT A MUD BATH AND MASSAGE?
Go back in time to Po Nagar Temple:
In the afternoon, the sun will be strong, so try to avoid the beach. Instead, dress up nicely and sportily and head over for a history lesson to the Po Nagar Temple! Before 1832, the central and south of Vietnam was the land of the Champa Kingdom. Cham civilians built this temple around 781 AD to worship the goddess of the country – Yan Po Nagar. What's special about this site is the way Cham people placed the 20 x 20 cm bricks onto each other without using any adhesives. They still stand to this day!
This complex consists of 3 levels, the highest one encloses 2 rows of towers and the main tower is around 25 meter high. You can find there many items that were influenced by Champa style of art such as the sculpture of a four-armed goddess, a 1.2m tall stone statue of the goddess Yan Po Nagar and so on.. From the location of an uphill ground where the temple is built, you could enjoy a panoramic view around the city of Nha Trang from above.
The architecture of Po Nagar Temple is similar to that of Angkor Wat in Cambodia, however is much smaller in size. However, we do have an Angkor Wat of Vietnam and these are the My Son Temples in Da Nang. If you get the chance, make sure to visit there! Stepping into the temples, such a narrow darky atmosphere of the sacred areas may stun any Western travelers first time getting into Vietnam.
Book a My Son Temple adventure with Onetrip by clicking here!
After your trip to Po Nagar temple, do not forget to get back to the beach when the sun is not too strong and enjoy your sunset by the sea. From 5:00 PM to 6:00 PM, the locals pour on to the seaside parks, taking a relaxing walk after their office hours and enjoying a refreshing beverage or seaside snack with some chatter.
More information of Po Na Nagar Temple
Address: Xom Bong Bridge, Vinh Tho Ward, Nha Trang City
Opening hours: 7 AM – 5 PM
Entrance ticket: 22,000 VND (~$1 USD)
If you already did beach time in the morning and do not want to go again, feel like jumping into a tub full of mud?? Mud is said to have all sorts of healing properties, and in Nha Trang there are four places for you to test this theory.
1) Thap Ba Hot Springs (150,000VND – 600,000VND) (~$7 USD – $28 USD)
2) 100 Eggs Mudbath (100,000VND  – 500,000VND) (~$4.5 USD – $23 USD)
3) I-Resort, a little more upscale (120,000 VND – 500,000 VND) (~$5.5 USD – $23 USD)
The fourth spot is Galina. Sadly, it has some negative reviews, so will not include it in our list.
If you would like a massage to top it off – try Sen Spa, Nha Trang.
EVENING – DINNER, EVEN MORE BEACH, AND SOME DRINKS
Dinner time!
More seafood for dinner. What do you expect in a coastal city? Take advantage of this! There is a street named Thap Ba, and this is the most famous street for seafood in the city! Try your luck at Oc Xuan Anh restaurant at 09 Thap Ba street. Comparing to other street food destinations, this place provides us with cleaner tables either in or outside. The over-burnt onion snails of this restaurant is a must try dish – the overburnt onions certainly added a delicious tinge to the dish.
Are you looking for a Western option? Then drop by Olivia Restaurant at 14B Tran Quang Khai street. The lanterns that adorn the venue are reminiscent of those at the Ancient Town in Hoi An and you would have the perfect romantic evening. Their pizza is great but the pho is also amazing. You might want to get here with a group of friends who are not so into Vietnamese food, so you can have it all to yourself 😉
After 8:00PM, take a stroll around the beach town at night. It is just made for walking!
A chilled-out night at the beach!
It's time for a good night in a pub. Louisiane Brew House is your ideal spot. Located right on the long sandy beach, the pub offers amazing seats on the sand at night. The food and drinks are fantastic but if you are full, just have some finger snacks that compliment your beer. You will enjoy the beach chairs but if it is a little chilly outside, you can sit inside, surrounded by a couple of retrograde lamps that light up your space in a vague tone. There is also a pool, so bring your swimsuit and an awake spirit. There is also a live performance every night for you to enjoy.
You can even go for a walk in the Nha Trang Night Market at 78 Tuệ Tĩnh, Lộc Thọ, Tp. Nha Trang. It is open till midnight every day and sells all sorts of things! Or how about some karaoke like the locals do? Maybe some alcohol will provide you with some liquid courage so do the rooftop bars first. Here are some good karaoke spots:
Karaoke Champa Island
Address: 304, 2 thang 4 Street, Vinh Phuoc Ward, Nha Trang City (Inside Champa Island Resorts)
Opening hours: 9 PM – 1 AM
Price range: 150,000 – 200,000 VND/hour (~$7 USD – $9 USD)
Nha Trang Center
Address: 20 Tran Phu, Loc Tho Ward, Nha Trang City
Opening hours: 11 AM – 12 AM
Price range: 120,000 – 150,000 VND/hour (~$ 5.5 USD – $7 USD)
Liberty Karaoke
Address: 2nd floor, 9 Biet Thu, Ward, Nha Trang City
Opening hours: 11 AM – 12 AM
Price range: 180,000 – 200,000 VND (~$8 USD – $9 USD)
So that's how your one day in Nha Trang could look. Those are obviously not the only options but as I've mentioned many times in the blog, just walk around and you are bound to find something to your taste. Try to also spend more than a day in Nha Trang if you could – there are lots of beaches that are a little off the beaten track and can be solely for you! An example: Jungle beach. If you can rent a motorcycle from your hotel, I recommend you do so and drive around a little. Renting a bike for a day would cost around 120,000VND (about $6USD). The breeze will certainly be welcome, especially on a hot day. Then you can find a beach, spread out a mat and just chill. Let us know how it goes!
Come Back to Your Home Away from Home
There are many budget and luxurious accommodations situated around Nha Trang. Among them, I highly recommend Christina's, a social accommodation concept that has been taking Vietnam by storm. In particular, The Costa Nha Trang, a towering beachside building located just beside the Intercontinental, will make your stay a special one. Staying at The Costa, you will have your own fully-furnished condo with superior amenities such as a swimming pool, gym, restaurant, business center, and more. The team members are professional, hospitable, and happy to share local stories with you. Check out the website for more detailed information.
That's Nha Trang for you!
You might want to read:
The Top 9 Off-The-Beaten-Track Beaches And Where to Find Them in Vietnam
Ultimate Guide to Nha Trang Accommodation
What to do in Nha Trang — Water Sports Edition
Enjoyed this article and would like more fun information on what to do, see and eat while in Vietnam? Visit us at the Christina's blog!