If you are planning to travel to Vietnam, or if you have just touched down on our soil, take a look at this article. Many of our friends have been asking me how to make the most of their trip in this charming country within several days, either on a standard budget (which is what this article partly covers) or with luxurious standards. This article is not for those of you traveling for a month or more, and it covers the middle of the road expenses, not too much and not too little. If you have roughly a week or two, with the most casual experiences in mind, read below.
Where To Go 
Here is what I recommend:
I have prioritized cities based on how much they represent the face of life in Vietnam regarding our cultural features, economic conditions, and how much the city supports tourism. In this article, we will go through the top prioritized cities. For other cities not mentioned and second-priority cities, please follow our blog for more information!
Ho Chi Minh City 
I do recommend that, instead of trying to reach many cities all at once, try to live as wholeheartedly in one place as much as you can. Vietnam is so diverse, however, we all share the same hospitality. So, if your time is limited and you are not sure what you want to see in this country, head to Ho Chi Minh City!
HCMC is not about walking back and forth in front of its thousands of cafés, or a brief sight-seeing around the Notre Dame Cathedral. To experience Ho Chi Minh City, I recommend that you chat with a local person as they guide you around the sites. The more people you make friends with, the better your experiences will be. From everywhere across Vietnam, people gather to this city to study, to earn a living, or simply to seek a purposeful job.
What is loved about this city is that people, mostly students and fresh graduates, are super hospitable and just like the youth across the world, they love making friends? In the small alley, right next to the bustle and rustle of Ben Thanh Street Food Market, you will find a tiny coffee shop (address 24/8 Thu Khoa Huan street) run by students with great prices, for instance. Such hidden gems are everywhere in this united city, where you can seek to talk with authentic people and listen to their adventurous stories. Making friends with the Vietnamese will have you understanding the life in this country!
Accommodation:
I highly recommend booking a homestay in town via the Airbnb platform as it is more popular in Vietnam than homestay.com. So many beautiful little rooms are delicately set up and listed on Airbnb by college students and fresh graduates. Authentic concepts, naturally friendly hosts, and really good prices are what you can expect here.
Means of transport:
To reach the city center from the airport, check out our article Get Around Saigon.
To get around the city, Grab bikes are most recommended, especially for a low budget and adventurous spirit. You should have your own SIM card (the easiest way is to get your SIM at the airport since they speak English), not only to help navigate in the maze of Saigon but also to book the best and most affordable means of transport. Non-uniform taxi bikes men are not recommended for you as foreigners since not many of them can effectively communicate in English.
For cabs, in case you, unfortunately, cannot book from Grab, opt for Vinasun or Mai Linh taxis. The price is a bit higher than Grab but you can trust these taxis.
You can also use buses once in a while but keep in mind that the bus quality in Vietnam is still limited. Download this App to your phone: Busmap. It helped me a lot in selecting the bus lines and navigating bus stops.
See and Do:
As you are on tour, you can ask the guides about Vietnamese Heroes' Mothers. These are mothers of Vietnamese soldiers who sacrificed their lives during the Vietnam wars. Many of these Mothers are still living in the Cu Chi district and receive support from either the government or charity groups in town.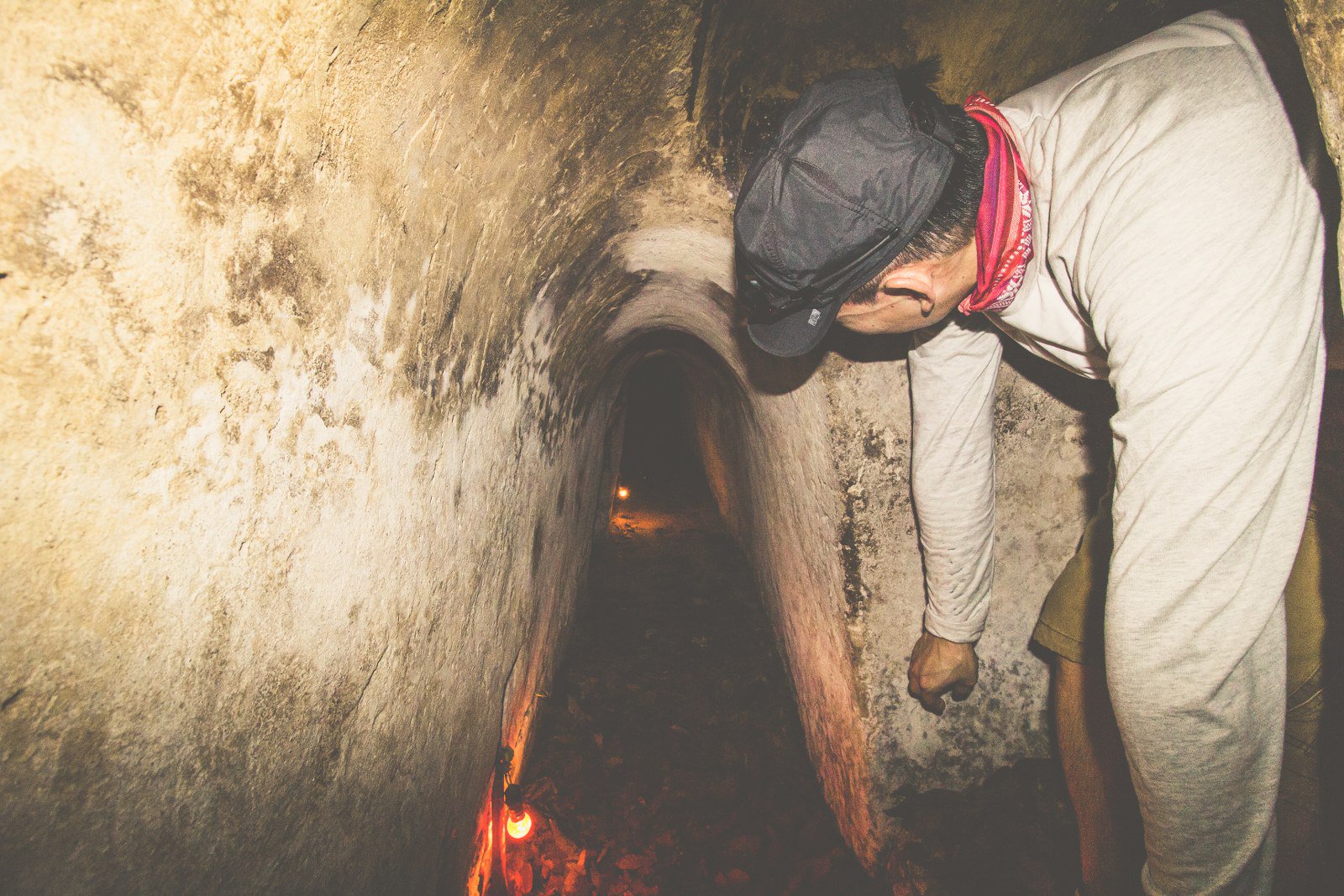 Da Nang City – Hoi An 
After HCMC, take a flight north to Da Nang city. If you buy these flights even a week ahead of time, they should not be very expensive, maybe around $30 USD. As one the most beautiful coastal cities of Vietnam, Da Nang is, however, attracting travelers not only because of its white sandy beaches and crystal seas but also its amazingly friendly people.
Accommodation:
Just like in HCMC, opt for a homestay in Da Nang and Hoi An from Airbnb. There won't be as many options because these are much smaller cities, but it's still a good chance to meet local people. You can also look for a hostel dorm if you are traveling alone from Booking.com.
Means of transport:
Grab bikes are newly available in Da Nang so there aren't too many yet. Check out more from this article about getting around this city. Many hostels also provide cheap motorbikes that are typically very old. If you want to try driving like the locals, Da Nang is a good place to do it since there are less traffic and more open roads.
In Hoi An, you won't find Grab. I recommend that you rent a bike (only $6 per day). You can also ask to borrow a bicycle from your accommodation (most of them have some for free).
See and Do:
To get to the Marble Mountains, from Da Nang, you can take the Busline No. 1 (25,000 VND per ticket) to Hoi An and stop mid-way at Ngu Hanh Son station (Ngu Hanh Son is the name in Vietnamese of the Marble Mountains). After your discovery, take Busline No. 1 and continue to Hoi An.
Hoi An: The whole town is one of the most attractive destinations in Vietnam. The best attractions in Hoi An are its Ancient Town, Tra Que herb village, and My Son heritage site! And you only have to pay the cheap ticket price for My Son sanctuary. Check this article out for an interesting day in Hoi An: One Day in Hoi An See and do.
Notes: December through June is a good time to visit the central coastal areas of Vietnam, during which January to March is the best time ever! Be careful from July to October as storms are approaching.
Hue 
There are so many small areas to discover if you get a chance to see Hue, namely: the gigantic Citadel, the historic royal tombs, Phong Nha – Ke Bang cavern, and Khe Sanh basecamp. I highly recommend taking the train from Da Nang in order to get to Hue. It takes you six hours. Take it in the morning so you can contemplate the beautiful Hai Van pass and Lang Co Bay on your way! And yes, get to Hue right at check-in time. 😉
Means of transport:
You can rent a motorbike for $5.50 per day to get around the city. Check it out here: Getting around in Hue.
See and Do:
After your check-in, a visit to the Old Citadel will surely delight you. Let's check out a cool itinerary in Hue here One Day in Hue and Hue's most typical yummy dishes.
At night, the Perfume River changes its silent, elegant dress of the day, into its most alluring and romantic dress of the night. You can too! Then, you can join a group of tourists to enjoy Hue Traditional Music Show while leisurely sailing along the river, for only $7!
On your trip to Hue, don't forget to take a bus to Phong Nha – Ke Bang cavern cluster. This brilliant natural wonder is 180 kilometers to the south of our old capital, including several huge caverns that are located quite far from one another. It usually takes 2 days and it is a bit costly to visit most of the caverns within, although it is well worth the expense.  If you don't have time, Phong Nha Cave is the most recommended. For a day bus and a good, really budget-friendly round trip from Hue to Phong Nha, check out the $25 from Hue to Phong Nha one day tour from VM Travel.
Hanoi Capital 
There is no doubt that, unless you can't arrange your time, you must visit Hanoi. As the capital of Vietnam for a millennium, the city holds more than what words and photos can hope to explain. I recommend 2 days in Hanoi to visit in full what it has to offer.
Accommodation:
Once again, I recommend looking for an Airbnb. However, Airbnb in Hanoi is not as popular as it is in HCMC, so you can also opt for a 2 – 3-star hotel/ hostel from highly accredited online platforms popular in Vietnam: Booking.com, Hostel.com. I don't recommend Agoda since there have been several scandals around this platform lately. Best areas to accommodate yourself with a budget are around the Old Quarter.
Means of Transport:
Check out our article here for clear instructions from the airport: Everything You Need to Know About Hanoi Airport.
Again, Hanoi offers Grab. Transportation works much in the same way as HCMC. If you look for a taxi, I recommend Van Xuan taxi, Taxi group, or Mai Linh. Do check out the distance before you start your trip. I always like to walk long distances in the morning and by the afternoon I get tired. You can save a little money by only paying for a taxi once.
In Hanoi, you can download this map from your app store for the bus guideline: Busmap – Map of the bus routes in Hanoi and Saigon.
One good point is to think about renting a motorbike in Hanoi. It's roughly $7 a day and it's super convenient! Check out more information on this from our article for best ways of getting around Hanoi.
See and Do:
Also look here for super exciting Hanoi breakfasts with Pho rice paper. For a standard meal in town, 25,000 VND – 35,000 VND is a good price.
It's been almost 2 weeks now! Have you felt how it is to truly live in Vietnam? I believe that, after your days, what stays in your heart is surely more than places, but the pace of life and the love of the people in this small beautiful country. Do stay in the country longer if you have time. Working in a modern coffee shop is the norm of this country and the above cities provide you great cafés for work! Check out our blog for more interesting information about places across the country if you wish to, we cover them all. I hope you enjoy this place as much as we do!