I used to believe that currency exchange is a piece of cake. This was until I had a chance to go out of Vietnam to Cambodia, and only when I had to convert to Cambodian Riel did I realize that the struggle was real. On my way back to Vietnam, I thought to myself that I should write this article in order to help those poor confused souls traveling to Vietnam with absolutely no idea what to expect. You may be a millionaire here, but the confusion is sometimes not worth it. Sometimes. Worth bragging about on Instagram though 😉
When the banker hands you a bunch of Dong (yes, this is the name of the Vietnamese currency), you should take a deep breath before starting to count it as you may feel a little overwhelmed with the multiple zeroes on the notes. When you exchange only a 100 USD, you will receive 2.2 million Vietnamese Dong! Yes! Everyone body once dreamt of being a millionaire, and here you are, living their dreams. The happiness will be short lived though, because you're gonna spend it quickly.
Understand the exchange rates
Even though some shops still accept USD and credit cards, it will be to your benefit and convenience if you have Dong in your wallet. For example, if you want to try street-side food (link to some food article) or go shopping in a local market (link to markets), it will be very likely that they do not accept any other alternative to VND. So, getting your money exchanged to the local currency makes most sense – plus it will enhance your local experience.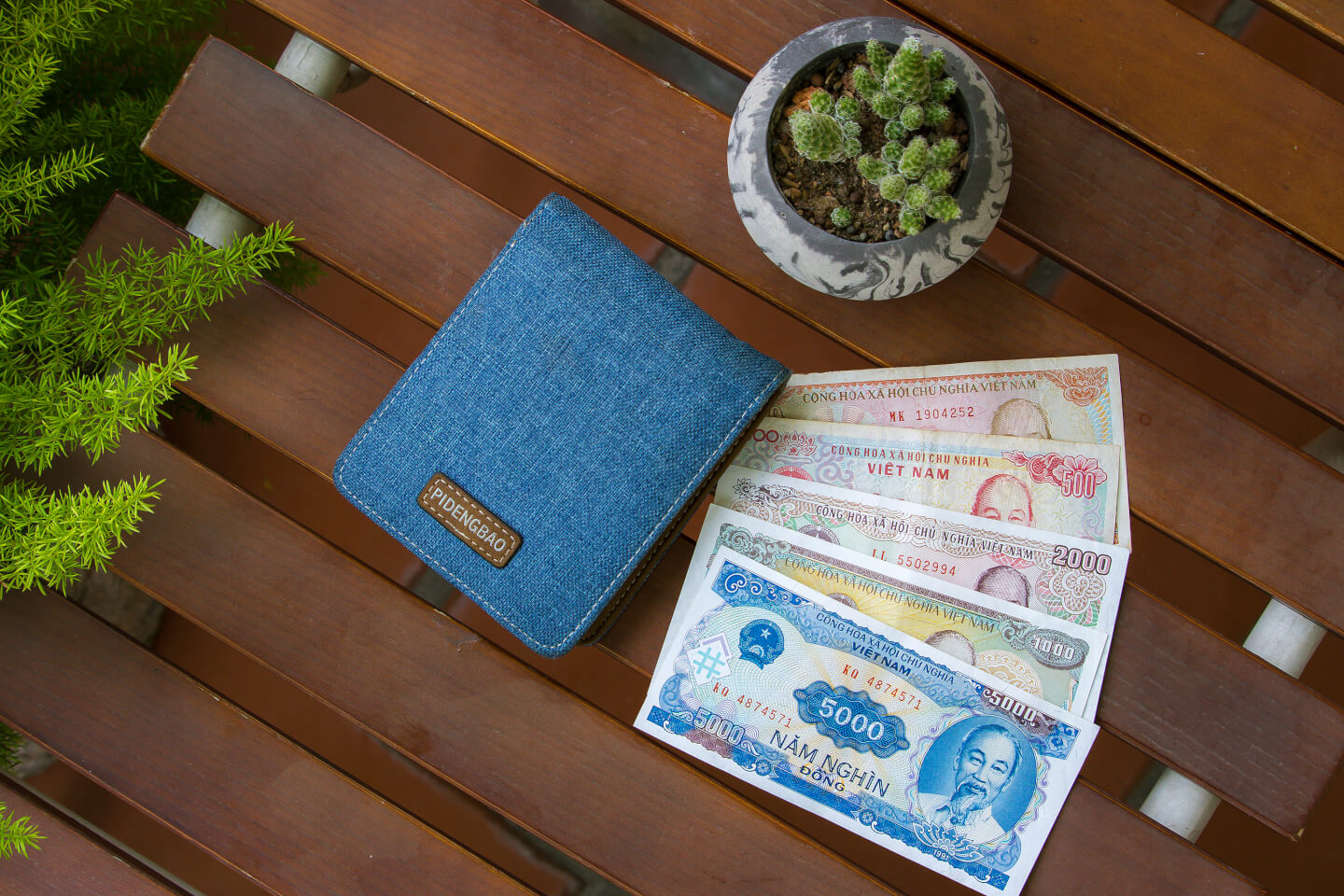 Understanding the exchange rate is the first step when you start using Vietnamese Dong. The easiest way is to round the number and bear in your mind that $1.00 USD ≈ 22,000 VND.
Apart from US Dollars, many banks in Vietnam still exchange VND for these foreign currencies:
Australian Dollar: 1 AUD ≈ 17,000 VND
British Pound: 1 GBP ≈ 29,000
Euro: 1 EUR ≈ 25,000 VND
Canadian Dollar: 1 CAD ≈ 16,000 VND
Japanese Yen: 1 JPY ≈ 200 VND
Singaporean Dollar: 1 SGD ≈ 16,000 VND
Taiwanese Dollar: 1 TWD ≈ 500 VND
Hong Kong Dollar: 1 HKD ≈ 3,000 VND
Swiss Franc: 1 CHF ≈ 22,000 VND
New Zealand Dollars: 1 NZD ≈ 15,000 VND
Thai : 1 THB ≈ 700 VND
*Please note in mind that these values are rounded for convenience and are subject to change with time. Double check every time you are about to get some exchanged.
http://www.xe.com/ is a great money exchange website 🙂
Where to exchange your money
There are a number of currency exchange counters in the airport and there are so many more distributed within the city.  Banks, however, are the most trustworthy places to get your money exchanged. Why you may ask? Most banks are open on weekdays from 8AM – 4PM, however they have lunch breaks from 11:30AM – 1PM.. Some big branches of banks are also open on Saturday mornings from 7:30AM – 11:30PM. Some banks I recommend to you are Vietcombank (VCB), Asia Commercial Bank (ACB), Techcomebank, Military Commercial Joint Stock Bank (MB Bank), HSBC and Exim Bank. The last one does not require passport for transaction.
I would highly recommend the bank if you need to exchange a large amount of money (more than a thousand US dollars for example). And the security system in the bank is definitely greater for you and your property.
Notes:
The above rates are round numbers, it is for reference only;
Some banks require you to show your passport and fill out a form in order to exchange your money;
Travellers' checks and foreign currency can be changed into cash in big cities such as Saigon, Ha Noi, Da Nang, etc.; but not always in smaller provinces or towns;
You notes should not be torn or damaged. Else, the bank will charge you 3 – 4% of the note's value.
For those who hate going to the bank, here are some other places you can swing by:
1. Hung Long Money Exchange
Hung Long Ltd offers the best rate for currency exchange. The location is quite easy to reach since Mac Thi Buoi is next to Nguyen Hue, the famous pedestrian street.
Address: 86 Mac Thi Buoi, Ben Nghe Ward, District 1
2. Ha Tam Jewelry Store
This place located just across Ben Thanh market. They also have a good exchange rate. However, you should check for the rate online in advance to have an idea of what to expect.
Address: 2 Nguyen An Ninh street, Ben Thanh Ward, District 1
How to obtain cash
Simply go to any ATM around Vietnam whenever you want to withdraw cash from your card. Most ATMs are connected to Visa and Mastercard networks. But do notice that a currency exchange fee and an ATM withdrawal fee will be applied. My advice is that you should ask your bank about the rules of getting cash advances overseas because the fee may be unfairly large.
Identify the Vietnamese Currency
First things first, Vietnamese have stopped using coins since 2011 so no coins!!! Hallelujah! When it comes to notes, my tip is to ignore the numbers (way too many zeros) and memorize the colors together with the material. To make it easier for you to remember, I will divide the money into 2 groups based on the material of the bank notes: The Paper Family and The Polymer Family.
Vietnamese have stopped using coins since 2011.
The Paper Family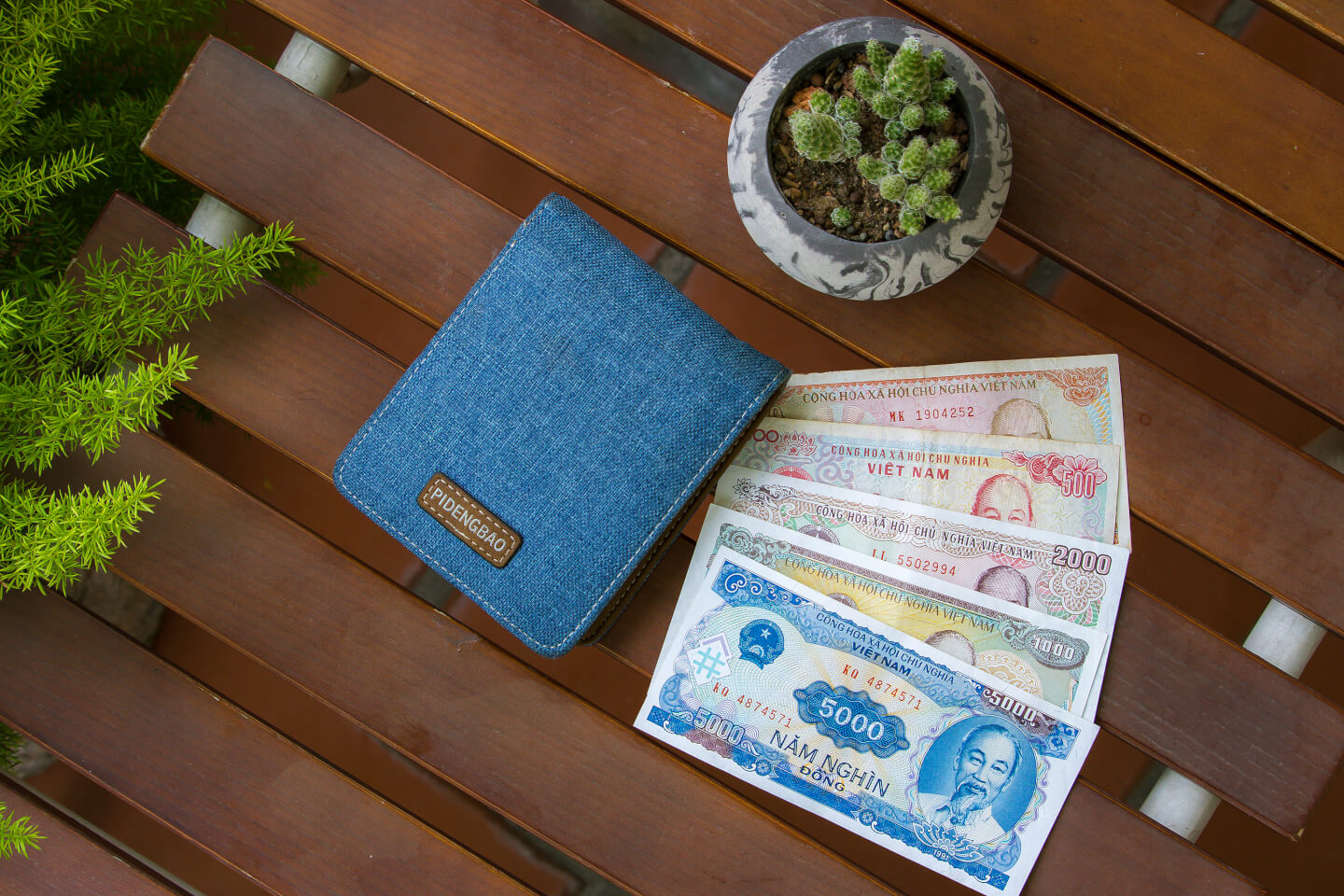 This is of the "poor family", which means the notes have a low value. The notes include 200đ, 500đ, 1000đ, 2000đ and 5000đ.
The 200 VND (200d) note has a bronze color and it has no value so you will rarely see or use it. In case you want to have it for your currency collection, you can find it at the bank or big supermarkets like the Co-op Mart.
The 500 VND (500d) note has a lovely pink color. But this is barely of any value too.
The 1000 VND (1000d) and 2000 VND (2000d) have the same dark brown color. So the only way to distinguish between these two really is to look at the numbers. As you know, 1000 VND does not have big power like a $1000 USD. With a 1000VND, you can barely purchase anything except perhaps a small toffee. You can sometimes use it to pay your parking fee. Since it's not really worth anything, any tip you give for a service should be much greater, unless you're actually trying to troll them.
The 5000VND (5000đ) has a peaceful blue color. This is the biggest value in the Paper Family. You can buy a few things with 5000d. For instance, a bottle of water, a big glass of sugar cane juice or of course, a few candies and also your parking fee.
The Polymer Family
The Polymer Family has "member notes" from the middle and upper class. You will have more power in your pocket if it is filled with notes made of polymer. But be careful when you use the 20,000 VND and 500,000 VND because the colors of those are similar to each other, only differing when it comes to the shade. I bet you don't want to pay 500,000 VND for a dish of com tam (broken rice). Anyway, let me introduce you to the members of the Polymer Family.
A 10,000 VND banknote (10,000đ) has a light yellow color to it and is the smallest size of all.. You can buy a banh mi or a cuppa ca phe sua da (Vietnamese iced coffee) and a lot of delicious street food with every single 10,000d spent. Yay!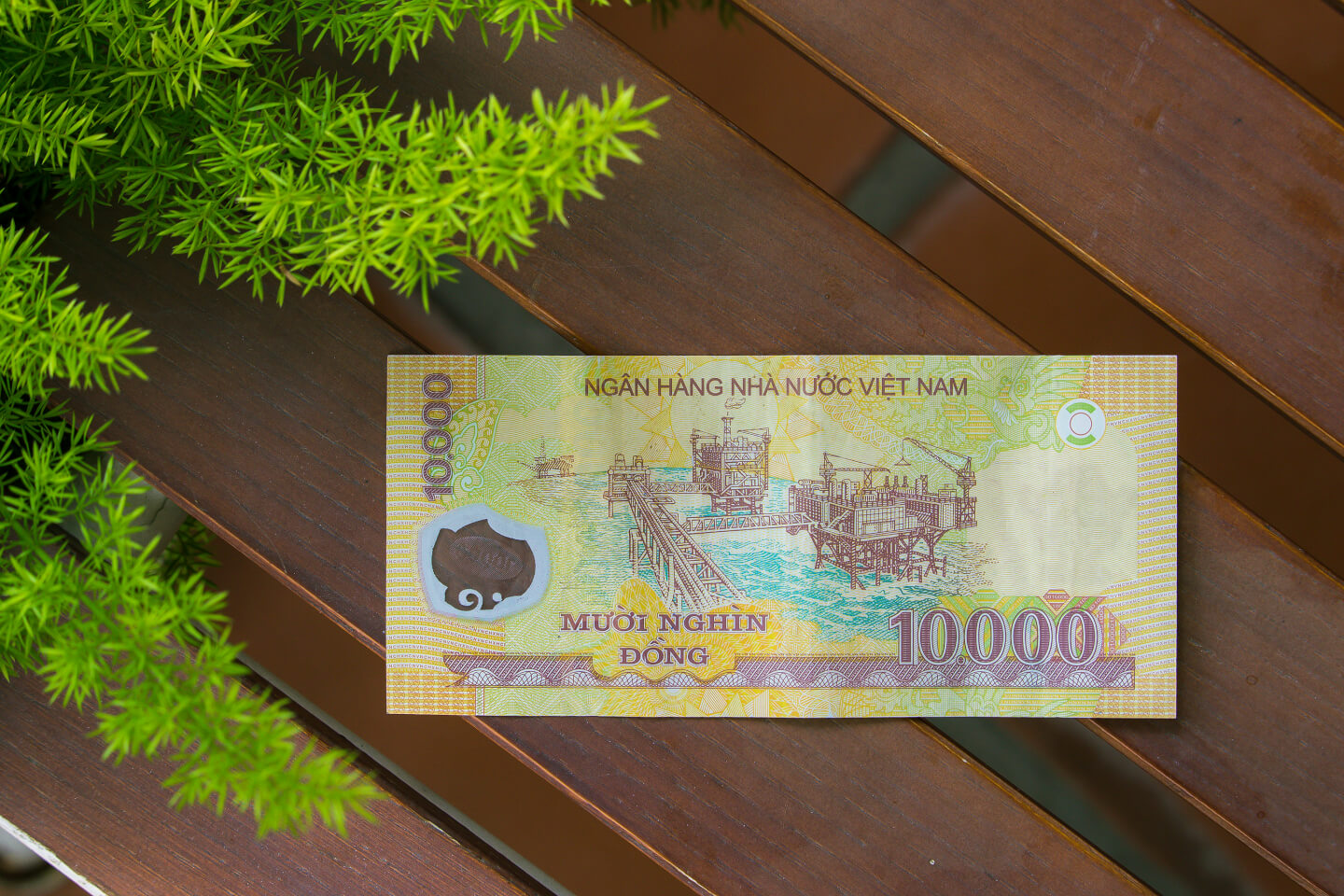 The 20,000 VND (20,000d) is blue and has a picture of the Japanese Covered Bridge of Hoi An on one side. This will help you distinguish it from the 500,000 VND note. With the 20,000 VND note, you can easily purchase a dish of delicious com tam.
It is very easy to point out the 50,000 VND (50,000d) note because of its unique purple color. What can you do with 50,000d you may ask? You can feast like a king!  For example, I normally have chicken rice for 35,000 VND, a cup of iced tea for 2,000 VND and a pudding for 10,000 VND. AND I still have 3,000 VND left for some candy and of course, parking fee, haha!
The 100,000 VND (100,000d) note is in green. It can be used to pay for a bed in a dorm in the backpacker area, which normally cost around 80,000 VND – 120,000 VND.
The color of 200,000 VND (200,000d) is a little similar to the 10,000 VND note so you should pay attention to the number until you get used to it. You can find a double bedroom with AC and private bathroom with this amount of money on small alleys in the backpacker area. This adds up to just a little less than 10 USD.
The 500,000 VND is the biggest note in Vietnam, adding up to just over 20USD. You can live comfortably on a budget of 500,000VND per day! As mentioned before, this 500,000d note and the 20,000d note are pretty similar to one other, so be careful when you use it.
Fun facts and tips about Vietnamese Currency
Here are some tips & tricks related to the keyword "Vietnamese money" you might want to know, in order to help you with your preparations in becoming a millionaire in Vietnam.
What to remember:
Spending time to double check the currency rates and count your money carefully is a must to avoid being scammed.
When receiving change that contains notes similar to one another, don't forget to count the zeros.
Because the currency system is unfamiliar to you, you might not know whether someone is trying to fool you or not. Some bad sellers understand this and they may try to scam you. To prevent being scammed, once again, check the zeros – before you hand the cash in and after you receive your change!
The letter "k"
You will see a lot of price tags with the letter "K"  following the number. For example: 50k, 100k or 1000k. Don't panic. It is just a way that Vietnamese people (and others) simplify the amount. It's easier to substitute 3zeros to a simple letter. The K therefore, represents a thousand,  so this means 50k = 50,000d, 100k = 100,000d and 1000k = 1,000,000d, and so on.
The material
The polymer notes can stick together easily (especially when wet) and they are also slippery, so make sure you flick or peel the money carefully so as to not pay more (or less) than you have to.
The black market
Never change your currency in the black market because you might end up being the victim of a scam.
The big money
Avoid using high-denomination notes on street-side vendors as most of the time, they may not have enough change to pay back.
The purse tip
To avoid using the wrong note, especially the confusing couple 500k vs 20k and 200k vs 10k, I normally use a purse or wallet with 2 compartments to separate the big money and small money. By doing that, you won't take out the wrong money when needed.
Getting to know a new currency system is just as fun as learning a new language. It will be a little hard at first. But with a little practice, you will master it quickly. Have fun being a Dong millionaire in Vietnam! Let us know your experience in the comments below!
Enjoyed this article and would like more fun information on what to see, do and eat in Vietnam? Follow us at the Christina's blog!